Episode 340 – Knock-offs and Costumes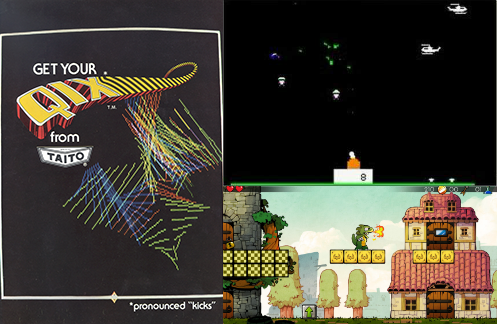 This week we wound up talking a lot about games that copy other games while we tried to trace the lineage of tile-matching and falling-block puzzle games. Someone made a mechanical version of Pong that looks pretty sweet. We've got a ton of shareware CD's and the backstories to characters who went unnoticed in this episode of the Retro League.
This Week in Gaming History
June 6, 1984 Tetris was originally designed and programmed by Alexey Pazhitnov while he was working for the Dorodnicyn Computing Centre of the Academy of Science of the USSR in Moscow.
Hot Topics
Burger King Game Boy toy turned into actual Mini Game Boy
Virtually Retro
Donkey Kong Country 3: Dixie Kong's Double Trouble (New Nintendo 3DS Virtual Console)
News
Why are so many devs employing a retro low-poly mid-1990s aesthetic?
Mechanical Pong table transports the classic game into real life
?This Freshly Translated Interview Sheds New Light on the Development of Super Mario Land 2
Man is suing Nintendo over Donkey Kong costume
Here's Why Getting Your Retro Games Graded Could Be A Complete Waste Of Money
Wonder Boy: The Dragon's Trap Reboot Confirmed For Consoles
Caveat Gamer
Playstation 1 Prototype pre production controller RARE
Nintendo 64 Clay Fighter Sculptor's Cut
Random Links
Texas court affirms game mechanics not protected under copyright law
Games of The Week
Freeloader Game of the Month