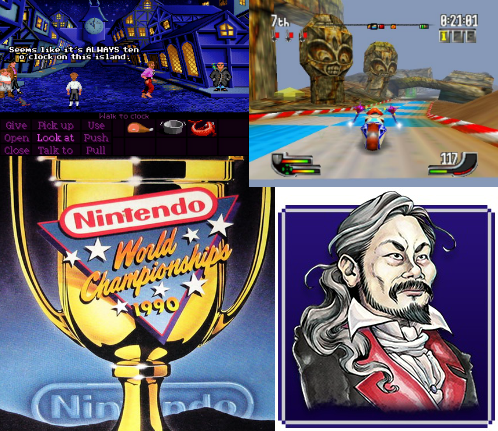 This week we're letting friends borrow our games and remebering the most obscure game mascots. We explore one of the most famous game stores on Earth and pick some of our favorite old DOS games. We've got wise-cracking pirates and super-fast cyberbikes in this episode of the Retro League.
This Week in Gaming History
May 22, 1980 – Pac Man originally released in Japanese arcades
Hot Topics
E:60 – Evolution Of Sports Video Games
Games you loaned out and never got back
What are your favorite completely obscure video game mascots?
Your top 10 games in no particular order
Virtually Retro
Final Fantasy IV: The After Years (Steam)
Arcade Archives Double Dragon (PS4)
The Marlo Files Remastered Edition – Text based adventure for the C64
New Super Mario Bros. (Wii U Virtual Console)
Mega Man Battle Network 3 Blue & White (Wii U Virtual Console)
3D Thunder Blade (3DS)
News
Nintendo World Championships to Return After 25 Years
Guided Tour Of Super Potato, The Ultimate Retro Gaming Paradise
Kickstarter – Bloodstained: Ritual of the Night
Games of The Week
Secret of Monkey Island (PC – DOS)
Extreme-G (N64)
Freeloader Games of the Month
Ultima VIII
Posted: May 22nd, 2015 under Episodes.